The Member section of this wiki provides our members with a space to share their ideas, document their world building, and share knowledge. Any logged in member of the Clovercraft Discord server can add to and edit the contents of this section. We hope this tool will provide a venue for all the wonderful creative narratives and builds our members have put their time and energy into.
Since the Member Wiki is constantly evolving, we can't keep the custom navigation on the sidebar of this site up to date with the content that's present. We've put some helpful links in the sidebar, like this information page. To access more member content, use the Browse feature of the wiki.
In the sidebar, select the "Browse" option to toggle from the navigation menu to the wiki browser.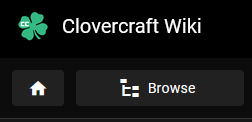 When the wiki browser is visible, the button will switch to "Main Menu." you can click the main menu button at any time to view our default navigation.
Wiki content is stored the same way that text files are stored on your computer. You can view pages by clicking on each individual entry, and navigate into folders by clicking on folders. To move back up from the folder you're in, you can click on any entry in the breadcrumb navigation below /sidebar.root.